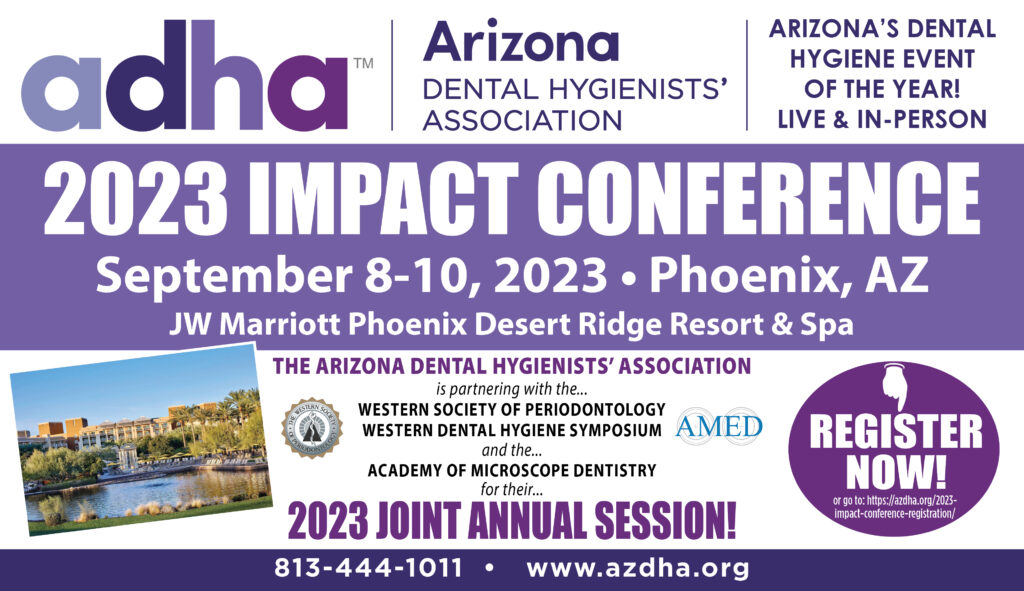 Dear colleagues,
As a dental hygienist who is passionate about oral health, I truly believe that by working together with other associations that share our goals, we can achieve so much more than we ever could on our own. The 2023 AzDHA Impact Conference will be a gathering of Arizona's leaders in collaborative care.
The Arizona Dental Hygienists' Association (AzDHA), together with The Western Society of Periodontology (WSP); The Academy of Microscope Enhanced Dentistry (AMED); and The Western Dental Hygiene Symposium (WDHS) are joining forces to present "New Heights in Interdisciplinary Care." This partnership allows attendees to have access to additional speakers outside of the hygiene world.
AzDHA knows Arizona hygienists are interested in an array of topics. Explore the courses that range from Medical History Front & Center – Oral Pathologies as Manifestations of Systemic Conditions with Sherri Lukes, to spending time with Katrina Sanders learning about the human microbiome.
When dental professionals meet with the common goal of improving everyone's oral health, we can pool our resources as well as share our knowledge and expertise, making our patients the benefactors. But beyond the practical gains, there is also something truly inspiring about building connections and relationships with like-minded individuals and organizations. We create a sense of community and shared purpose that can sustain us through even the toughest challenges.
I hope to see you September 8th-10th, at the AzDHA Impact Conference where we will celebrate the power of collaboration. Whether it's through networking events, interactions with sponsors and exhibitors, or simply reaching out to connect with other dental professionals, there are countless opportunities for us to work together toward our mission of improving Arizona's oral and overall health.
Valery Brady, AAS, RDH
President
Arizona Dental Hygienists' Association